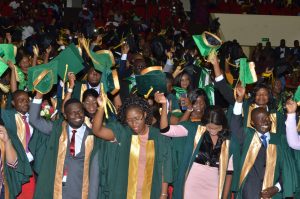 This serves to notify all graduating students and stakeholders that the
ZIBFS Virtual Graduation Ceremony for all 2020 graduates will be held on 27th March 2021 from 09:00hrs to 11:00hrs CAT.
The Ceremony will be streamed live on both television and social media, as follows:
DATE: Saturday, 27th March 2021
TIME: 09:00hrs – 11:00hrs CAT
CHANNELS/ PLATFORMS:

DSTV Channel 271 –

Diamond TV

GOTV Channel 99 –

Diamond TV

Top Star Channel 110 –

Diamond TV

Diamond TV Facebook page – https://www.facebook.com/Diamond-TV-Zambia-273812309715103
ZIBFS Facebook page – 

https://www.facebook.com/zibfs
The Council of the Institute wishes to congratulate all its students who have made it to this year's Graduation Ceremony.
Certificates of completion will be collected from the Institute from Monday 29th March 2021.
Graduates are therefore encouraged to pay the compulsory graduation/certification and membership fees before collection of certificates, full transcripts, and academic reference letters.
The list of fees can be accessed on the Institute website, by clicking the link on

http://www.zibfs.com/fees-and-payments/

You can also request for fees schedule through email to education@zibfs.com.
Head of Education Programmes

Email: education@zibfs.com; reception@zibfs.com

Tel: 0211237281 / 0977141342/ 0977711037