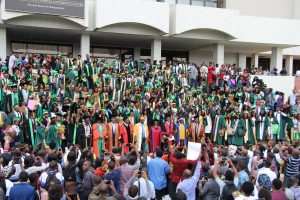 This serves to inform all students that completed their programmes both at academic and professional levels in 2021 that the 2022 Graduation List (1st draft) has been uploaded on the Institute website under the downloads section. Click HERE to download the list.
Kindly check that your name is correctly spelled before certificates are printed. For those whose names are missing or have errors, please get in touch with the Institute through email to the education@zibfs.com and marketing@zibfs.com or via telephone to Chongo Kaka on 0211237281/ 0977141342. The deadline for the verification of names is 11th February 2022.
In this regard, kindly note that you are required to pay compulsory graduation fees as well as membership fees for 2022 to be eligible for graduation. Contact the Institute for a schedule or quotation of fees. You may also access the fees by clicking HERE.
Note: The graduation date will be communicated in due course.Congratulations to all students who have made it to the 2022 Graduation List.
CONTACT DETAILS:
Phone/Cell: 0211 237281 and 0977141342
Email: education@zibfs.com and marketing@zibfs.com