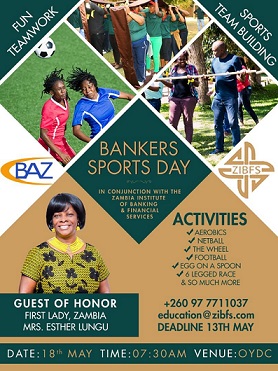 The Zambia Institute of Banking & Financial Services (ZIBFS), in partnership with the Bankers Association of Zambia (BAZ), invite individuals and teams to the 1st BANKERS & FINANCIAL SERVICES SPORTS DAY which is meant to facilitate sporting activities for industry professionals to assist them in dealing with work-related stress and hence prevent Non-Communicable Diseases (NCDs) such as high blood pressure, diabetes, etc.
GUEST OF HONOUR:
MRS. ESTHER N. LUNGU, FIRST LADY OF THE REPUBLIC OF ZAMBIA
DATE: SATURDAY, 18th MAY 2019
VENUE: OLYMPIC YOUTH DEVELOPMENT CENTRE (OYDC), Great North Road, Lusaka


TIME: 07:00HRS – 16:00HRS
THEME: "A Healthy Professional is a Productive Professional".
PARTICIPATION FEE:
Minimal participation fee for individual and team participation.
(Contact the Institute for participation fee and registration formalities. LIMITED SPACES AVAILABLE. The deadline for registration is 13th May 2019. Net proceeds from the sports day will be donated to charity)
RATIONALE FOR THE SPORTS DAY:
As you may be aware, most of the professionals in the financial sector are exposed to high levels of work-related stress and fatigue that arises from long working hours, very busy work schedules and demanding performance targets. The Institute appreciates the huge positive impact that a healthy and active lifestyle has on the effectiveness of these critical professionals in the financial sector.
Further, His Excellency the President of the Republic of Zambia, Mr. Edgar Chagwa Lungu, has been calling on the nation to stay healthy by exercising as a way of preventing non-communicable diseases, and he has led the way to an active lifestyle through routine morning exercises. His call has been echoed by the Ministry of Health and many other stakeholders because an active lifestyle through exercising and healthy living helps to prevent non-communicable diseases.
The 1st Bankers Sports Day will be a fun-filled fitness, networking and social event which is meant for financial sector professionals to exercise together in an effort to promote healthy and active lifestyles for the effectiveness of all financial sector professionals. Various sporting activities and a health talk will be conducted during the event.
REQUEST FOR DONATIONS TO CHARITY:
This Sports Day will also be held with a charity aspect to it and NET PROCEEDS FROM THE SPORTS DAY & OTHER ITEMS WILL BE DONATED TO CHARITY, as a way of supporting the noble work of uplifting the lives of the vulnerable and less privileged in our society.
Members of the Institute, stakeholders, business community and the general public are hereby requested to consider donating any items to charity through this event, such as:
clothes (new and 2nd hand-children & adults ),
warm clothing (new and 2nd hand-children & adults),
food items,
beddings (new and 2nd hand),
grocery,
books (notebooks and reading),
shoes (new & 2nd hand),
etc
FREE EXHIBITION
All leaders of the banking & financial services sector have also been invited to attend this important event.  This event will be open to the public and all participating institutions are invited to a FREE EXHIBITION of their products and/or services during the event.
"Let us work together in bringing the financial sector together through sport and continue to promote an active and healthy lifestyle among financial sector professionals as a basis for their effectiveness"
CONTACT:
Zambia Institute of Banking & Financial Services.
 P.O.Box 35571, Lusaka.
 248A Namambozi Road, Fairview Lusaka.
 Tel: 211 237281, 0977711037, 0977141342.
 Email: reception@zibfs.com; education@zibfs.com; marketing@zibfs.com
 Website: www.zibfs.com
 Follow us on Facebook, Twitter and LinkedIn