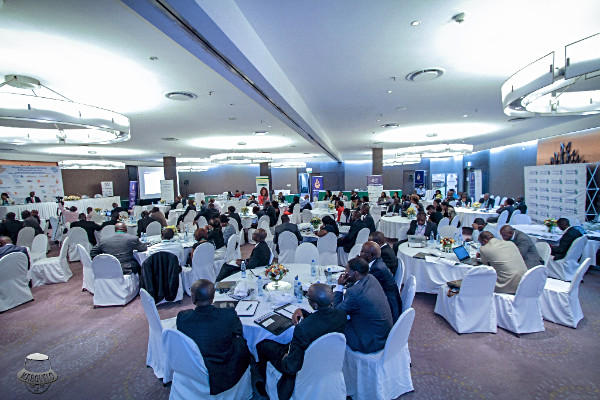 Sponsors: Bank of Zambia, Rural Finance Expansion Programme (RUFEP)
Registration of delegates for the 4th Banking & Finance Conference is in progress on first come-first first-served basis. The Conference is taking place on 20th-21st Sept 2018. This is a learning event you cannot afford to miss! There is a 10% special discount offer to all ZIBFS paid-up members. There are limited seats available so delegates are encouraged to register now.
THEME: "Breaking the Mold –Financial Inclusion with a Digital Landscape & A Global Perspective"
FEE: K3,500 per person, cocktail inclusive. (10% Discount to all Paid up members)

DATE: 20th – 21st September 2018

VENUE: Hotel Intercontinental, Lusaka starting

TIME: 08:00 hours

The conference cocktail will be hosted on 20th September 2018 at 18:00hrs.
DETAILS:
Over the years, the ZIBFS Banking and Finance Conference has continued to strengthen its potions as the leading Conference for the industry.  The 4th Banking & Finance Conference themed "Breaking the Mold –Financial Inclusion with a Digital Landscape & a Global Perspective" couldn't be timelier.
Conference Sub-themes (Topics)
The event will be a catalyst for debate, best practice, knowledge exchange and partnerships among the practitioners, policy-makers and other stakeholders seeking to achieve significantly greater financial inclusion in Zambia, the region and indeed, globally.
The Conference will discuss various sub-themes including, but not limited to:
Access to affordable finance for Micro, Small and Medium Enterprises (MSMEs)
Access for all to adequate, safe and affordable housing (Housing Finance)
Agricultural and rural finance initiatives, providing inclusion of smaller holder farmers
Initiatives on gender and finance
Mobile banking with a futuristic perspective
The Informal finance – consequences on the financial sector
Agency Banking and Financial Inclusion: Impact on cost of delivering financial services (Rethinking Financial Inclusion_.
Shifting from financial education to financial capability
The Tax Payer Identification Number (TPIN) – implications on the unbanked Community
WHY SHOULD YOU ATTEND THIS CONFERENCE?
Regulators around the world recognize the potential benefits of financial inclusion powered by digital financial solutions. But with new technology comes new responsibility. Further, digital transactional platforms yield benefits for financial inclusion by providing both a means to access additional financial services, and they also generate data that financial providers can use to design financial products tailored to the repayment capacity and financial needs of the specific poor and low-income customer segments.
The question to answer is, 'What is changing with digital financial inclusion and what implications arise for financial sector players?' Come and get the views of the experts and share your views on the topic of Driving Financial Inclusion with a Digital Landscape and Global Perspective, and what implications are there for financial sector players.
The 2018 Banking Conference agenda will include a broad range of case studies, discussions and debates by top speakers from across Africa and from around the globe bringing theoretical and practical experiences on how various sectors can work together to promote financial inclusion. Key stakeholders will include central bank, pensions and insurance, commercial banks, insurance; NGOs, MNOs; retail stores, donors, investors, policymakers, regulators, etc. In this digital space, financial institutions are encouraged to collaborate, partner and learn from non-financial players to expand their products and services to new customer segments.
The Conference will also include a number of moderated panels of discussion which shall feature both local and international financial sector experts, including Managing Directors of various financial institutions. Each discussion panel will discuss a sub-topic, after which each member of the panel will give their view on the topic under study, and then the discussion will be opened up to the audience for a 'Question and Answer' session.  The Banking and Finance conference is an opportunity for policy makers, practitioners, NGOs and donors to gather, exchange views, learn about latest developments and to network.
WHO SHOULD ATTEND THIS CONFERENCE?
All institutions and stakeholders that are concerned with financial inclusion, but not limited to:
•Chief Executive Officers of Financial Institutions, Insurance Companies, Bureau DE Changes, etc, •Central Bank officials, •Commercial Banks (Heads and directors of branches, distribution, product development, marketing, cards and payment processing), •Micro finance Institutions, •Revenue Authorities, •Mobile Money Providers, •Government Ministries and Agencies, •Banking Technology Solutions providers and other consultants working with financial institutions, •Consulting and risk management firms, •Insurers, •MFI, policymakers, regulators, •NGOs, Development Organizations, •Lawyers and legal experts, •Professors, academics and journalists, •Innovators in the financial sector, •Universities, other Institutions of higher learning, students, etc., •Building Societies, Pension Houses, Government Ministries involved in treasury, Capital Markets players, etc., •The general public from other sectors is invited to attend, •Providers of digital and mobile banking services
The ZIBFS 2018 International Banking & Finance Conference is a must-attend event for banking and financial services industry professionals who endeavor to acquire superior financial services knowledge from the discussions that will be going on during the conference.  We are expecting more than 200 local and international participants to be in the conference. Therefore, the event will also provide a huge forum for networking with both local and international professionals.
EXHIBITION OPPORTUNITIES:
The Institute is also inviting you to participate in an Exhibition, which will be running alongside the Conference. Exhibition will be open to the public. Due to limited space, there are only ten (10) spaces available, and participation will therefore be on first come first served basis.
The Exhibition Fee is K7,500.00 per space. Please note that this fee is just for the unbranded exhibition booth and does not include branding. If you require assistance with branding of the booth, at an extra cost, please contact us on education@zibfs.com
SPONSORSHIP OPPORTUNITIES:
Take advantage of the various sponsorship packages/opportunities and a wide range of benefits are available for all Institutions for greater visibility at the conference. Benefits include, but not limited to, adverts in the Conference Brochure, sponsor's logo on conference adverts and materials, speech and promotion of sponsor products/ services during the conference,  placement of barners in the conference hall, cocktail invitations, etc. A detailed schedule of sponsorship packages can be downloaded by clicking HERE
Deadline for participant registration: 31st August 2017. A participant registration Form can be downloaded HERE
CONTACT DETAILS
 Zambia Institute of Banking & Financila Services

Plot 284A, Namambozi Road, Fairview

Lusaka

Tel: +260 211 237281

Mobile: +260  977711037 / +260 0977141342

Email: education@zibfs.com ; marketing@zibfs.com ; reception@zibfs.com