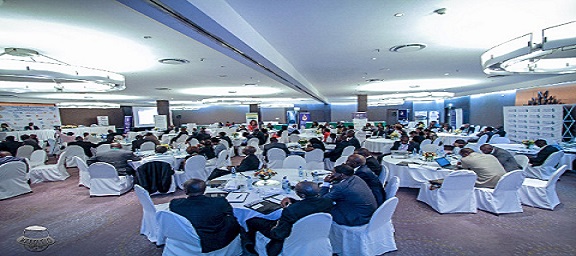 The Zambia Institute of Banking & Financial Services (ZIBFS) in Partnership with the Bankers Association of Zambia (BAZ), invite you and your institution to participate in the 2019 Banking & Finance Conference (BFC2019) to be held on 9th – 10th Oct 2019. Other details are shown below. Meet your Central Bank Governor, Bank MDs/CEO and CEOs/Heads of Non-bank financial Institutions at this year's conference. The Banking & Finance Conference is a key event for the financial sector and it is a platform for learning, information sharing and networking among the players in the financial sector, the business community and other stakeholders.
Guest of Honour: Hon. Dr. Bwalya K.E Ng'andu, MP. Minister of Finance
Other top speakers include, but not limited to:
Dr. Tukiya Kankasa Mabula– Deputy Governor Administration, Bank of Zambia
Mrs. Mizinga Melu – Managing Director, Barclays Bank Zambia
Mr. James Koni – Managing Director, Atlasmara Bank
Mrs. Mukwandi Chibesakunda – Managing Director, National Savings & Credit Bank (Natsave)
Mr. Joseph Chikolwa – Managing Director, Zambia National Building Society (ZNBS)
Mrs. Mildred Stephenson – Managing Director, Credit Reference Bureau Africa Limited (TA TransUnion)

Many more top notch speakers are expected at this event. Come and meet your industry leaders all under one roof!
Registration of delegates is currently in progress on the first-come-first-served basis. The Conference is taking place on 9th-10th October 2019. This is a learning event you cannot afford to miss! There is a 10% special discount offer to all ZIBFS paid-up members. There are limited seats available so delegates are encouraged to register early.
THEME: "Financial Inclusion in an Era of Digital Disruptions – Enhancing Sector Transformation"

FEE: K3,800 per person, cocktail inclusive. (10% Discount to all Paid up members)

DATE: 9th – 10th October 2019

VENUE: Hotel Intercontinental, Lusaka


TIME: 08:00 hours – 16:30hrs


The conference cocktail will be hosted on 9th October 2019 at 17:00hrs.
DETAILS:
Over the past 5 years, the ZIBFS Banking and Finance Conference (BFC) has continued to strengthen its position as the leading Conference for the industry. Therefore, the 2019 Banking & Finance Conference (BFC2019), themed "Financial Inclusion in an Era of Digital Disruptions – Enhancing Sector Transformation" couldn't be timelier, as the event will look at new and innovative financial technology solutions that will make financial inclusion possible, profitable and sustainable, through an enhanced transformation of financial services delivery.
The Conference will not only create awareness of the major challenges in developing or strengthening digital financial markets, but will also focus squarely on solutions of these challenges by highlighting innovations, new ideas and global experiences in the sector by way of case studies, discussions and debates by top speakers from across the financial sector, both local and international. This conference will explore the challenges and opportunities that financial technology innovations present for financial service providers (FSPs) and how these can be used as a conduit for sustainable financial inclusion and financial sector transformation.
CONFERENCE SUB-THEMES (TOPICS)

Speakers at last year's conference, included both local and international experts on various industry relevant topics, among others,  ZIBFS President- Mr. Moses Shuko, BAZ Chairman – Mr. Kola Adeleke, ZNBS Managing Director – Mr. Joseph Chikolwa, Mr Rainer Fitz – an International MSME and Gender Finance Expert from Frankfurt, Germany, NATSAVE Managing Director-Mrs. Mukwandi Chibesakunda, etc.
The 2019 Conference will even be more interesting and speakers will include key experts from the financial sector, both local and international, including Managing Directors of financial institutions, who will make presentations, participate in discussion panels and also initiate discussions into pertinent issues affecting the financial sector and the economy at large.
The BFC2019 will be a catalyst for debate, best practice, knowledge exchange and partnerships among the practitioners, policy-makers and other stakeholders seeking to achieve significantly greater financial inclusion in Zambia, the region and indeed, globally.
The Conference will discuss various sub-themes including, but not limited to:
Financing Micro, Small and Medium Enterprises (MSMEs) – affordable financial solutions that turn MSMEs into opportunities rather than risks
Housing Finance Options – challenges and opportunities for both financiers and beneficiaries
Economic Diversification toward Agriculture:-
the role of financial service providers in Agricultural Finance
Risk Management & Innovation in Agricultural Finance (Typical challenges and risks of agriculture and agricultural lending)
Market characteristics of agricultural lending in Zambia, supply and demand
Customer Protection in digitalized financial services (Mobile Money, ATMs)
Gender Finance–recent developments and future outlook
Agency Banking-implications on financial inclusion
Financial Inclusion of Displaced & Vulnerable Communities (refugees, displaced people) – exploring opportunities for FSPs
Digital banking fraud: Best practice for technology-based prevention
Mobile Network Operators (MNOs and mobile banking) – are they taking over the traditional savings products?
The Informal Finance – consequences on the financial sector
Financial Services Product offerings – Loan or savings? What does your client want?
Credit Reporting – implications on the credit culture
Exploring the challenges and opportunities that financial technology innovations present for banks and other financial service providers (round table discussions)
Rural Finance Expansion Programme (RUFEP) – initiatives towards financial inclusion
WHY SHOULD YOU ATTEND THIS CONFERENCE?
Regulators around the world recognize the potential benefits of financial inclusion powered by digital financial solutions. But with new technology comes new responsibility. Further, digital transactional platforms yield benefits for financial inclusion by providing both a means to access additional financial services, and they also generate data that financial service providers can use to design financial products tailored to the repayment capacity and financial needs of the specific poor and low-income customer segments.
The question to answer is, 'What is changing with digital financial inclusion and what implications arise for financial sector players?' Come and get the views of the experts and share your views on the topic of "Financial Inclusion in an Era of Digital Disruptions – Enhancing Sector Transformation".
WHO SHOULD ATTEND THIS CONFERENCE?
All institutions and stakeholders that are concerned with financial inclusion and digital transformation, but not limited to:
Chief Executive Officers of Financial Institutions

Central Bank officials

Commercial Banks (Heads and directors of branches, distribution, product development, marketing, cards and payment processing)

Microfinance Institutions;

Revenue Authorities;

Mobile Network Operators (MNOs);

Government Ministries and Agencies

Banking Technology Solutions providers;

Consulting and risk management firms;

Insurers;

MFI, policymakers, regulators

NGOs, Development Organisation;

Lawyers and legal experts;

Professors, academics and journalists;

Innovators in the financial sector

Universities, other institutions of higher learning, students, etc
The BFC2019 is a must-attend event for banking and financial services professionals who endeavour to acquire superior financial services knowledge from the discussions that will be going on during the conference.  We are expecting more than 200 local and international participants to be at the conference. Therefore, the event will also provide a huge forum for networking with both local and international professionals.
SPONSORSHIP OPPORTUNITIES:
To make the 2019 Conference another success, ZIBFS is requesting for support and partnerships from various stakeholders in form of sponsorship through the various packages on offer to enable the Institute host a successful Banking and Finance Conference once again. All Sponsors will have the benefit of free exhibition space, among several other benefits such as adverts in the Conference Brochure, sponsor's logo on conference adverts and materials, speech and promotion of sponsor products/ services during the conference,  placement of banners in the conference hall, cocktail invitations, etc.  A detailed schedule of sponsorship packages and benefit can be requested for through email to marketing@zibfs.com and education@zibfs.com
This event offers sponsors with an opportunity to promote their respective institutions in a greater way through a free exhibition, not only to the local market but to the international market as well
Take advantage of the various sponsorship packages/opportunities and a wide range of benefits are available for you for greater visibility at the conference.
EXHIBITION OPPORTUNITIES:
There will be an exhibition which will be running alongside the conference from Wednesday 9th to Thursday 10th October 2019, and this exhibition will be open to the public. The exhibition will be Free for all sponsors and a fee of K7,500 will be charged for non-sponsors who wish to participate in the exhibition.  The Institute is therefore inviting non-sponsors to participate in an Exhibition. There are limited exhibition places available and reservation of exhibition space for non-sponsors is on first-come-first-served basis. All Exhibitors are advised to provide their own exhibition and branding materials. Contact the ZIBFS to book the exhibition space
Deadline for participant registration: 31st September 2019.
CONTACT DETAILS

 Zambia Institute of Banking & Financial Services

Plot 284A, Namambozi Road, Fairview

Lusaka

Tel: +260 211 237281

Mobile: +260  977711037 / +260 0977141342

Email: education@zibfs.com ; marketing@zibfs.com ; reception@zibfs.com