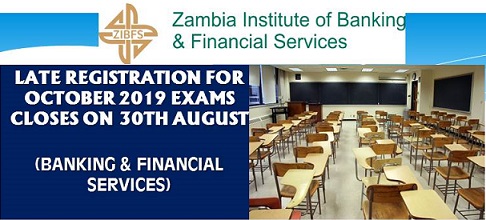 IT'S NOT TOO LATE!! SECURE YOUR PROFESSIONAL CAREER IN BANKING & FINANCE WITH ZIBFS NOW!! ……..LATE EXAM REGISTRATION IS CURRENTLY IN PROGRESS FOR OCTOBER 2019 EXAM REGISTRATION from 16th – 30th AUGUST 2019)………
For more information on the exciting Banking and Financial Services Courses, download detailed brochures under the downloads section of the ZIBFS website, www.zibfs.com.
Seeking a career in Banking & Finance? Well, the Zambia Institute of Banking & Financial Services (ZIBFS) is just the place for you. A ZIBFS Diploma holder receives up to two (2) years exemptions on reputable Banking Degree programmes in Zambia.
The Institute (ZIBFS) also awards exemptions to students who want to study for the ZIBFS Certificate and Diploma in Banking & Finance but already have other business related qualifications. Exemptions are awarded on a subject by subject basis. Apply for ZIBFS exemptions now and make your study path shorter and more interesting. WATCH THE FULL VIDEO HERE
Enrolment is in progress for the certificate and diploma in banking and finance programmes. Examinations at ZIBFS are held twice a year, in April and October.
The Institute would also like to remind all new and returning students (both school leavers and working professionals) to register for their exams early to avoid late exam registration penalties.
DEADLINE FOR OCTOBER EXAM REGISTRATION is as follows:
Early registration – 15th August 2019
Late registration – 30th August 2019, with a penalty
Don't miss the deadline.
CONTACT
Email: reception@zibfs.com
Tel: +260211237281
Plot 284A, Namambozi Road, Fairview/Rhodespark, Lusaka