– Friday 17th July 2020 (12:30hrs-14:00hrs)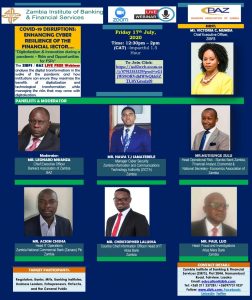 The Zambia Institute of Banking & Financial Services (ZIBFS) in collaboration with the Bankers Association of Zambia (BAZ), is inviting you to a scheduled Free Webinar (via Zoom) discussing COVID 19 DISRUPTIONS -ENHANCING CYBER RESILIENCE OF THE FINANCIAL SECTOR.
This ZIBFS / BAZ LIVE FREE Webinar will analyse the digital transformations in the wake of the Covid-19 pandemic and how institutions can ensure they maximize the benefits of digitalization and technological transformation while managing the risks that may come with digitalization.
This webinar will be a solid build-up to the Cyber Risk Management Master Class (CPD Training) which will be held very soon before the end of July 2020.
To Join this Zoom free webinar on your computer or mobile app click the link below:

https://us02web.zoom.us/j/87913353329…
Meeting ID: 879 1335 3329
Password: 525380