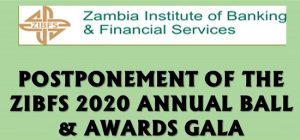 The Zambia Institute of Banking & Financial Services (ZIBFS) wishes to advise all its members, stakeholders and annual ball delegates, that the ZIBFS 2020 Annual Ball & Awards Gala which was scheduled to take place on Friday 20th March 2020, has been postponed to a later date to be advised in due course.
Kindly take note that all the purchased tickets, awards and all confirmations of attendance to the Annual Ball will remain valid for the new date to be announced soon.
This postponement comes in light of the declaration of the Coronavirus outbreak (COVID19) as a global pandemic by the World Health Organisation (WHO) and the subsequent issuance of a Statutory Instrument by the Ministry of Health of Zambia, advising all stakeholders to take urgent precautionary action, among which includes putting on hold all non-critical public gatherings until the situation normalises.
As ZIBFS, our first priority is the health, safety and well-being of all our delegates to the Annual Ball, so, we hope to have your full understanding and support in this regard. We would like to thank you for your support and preparatory work as we continue with the background work on this event and we deeply regret any inconvenience this postponement has caused.
We look forward to hosting you at the Annual Ball soon.
Note: The ZIBFS will soon issue a separate statement regarding the April 2020 scheduled examinations in line with guidance from the relevant authorities.
ZIBFS MANAGEMENT