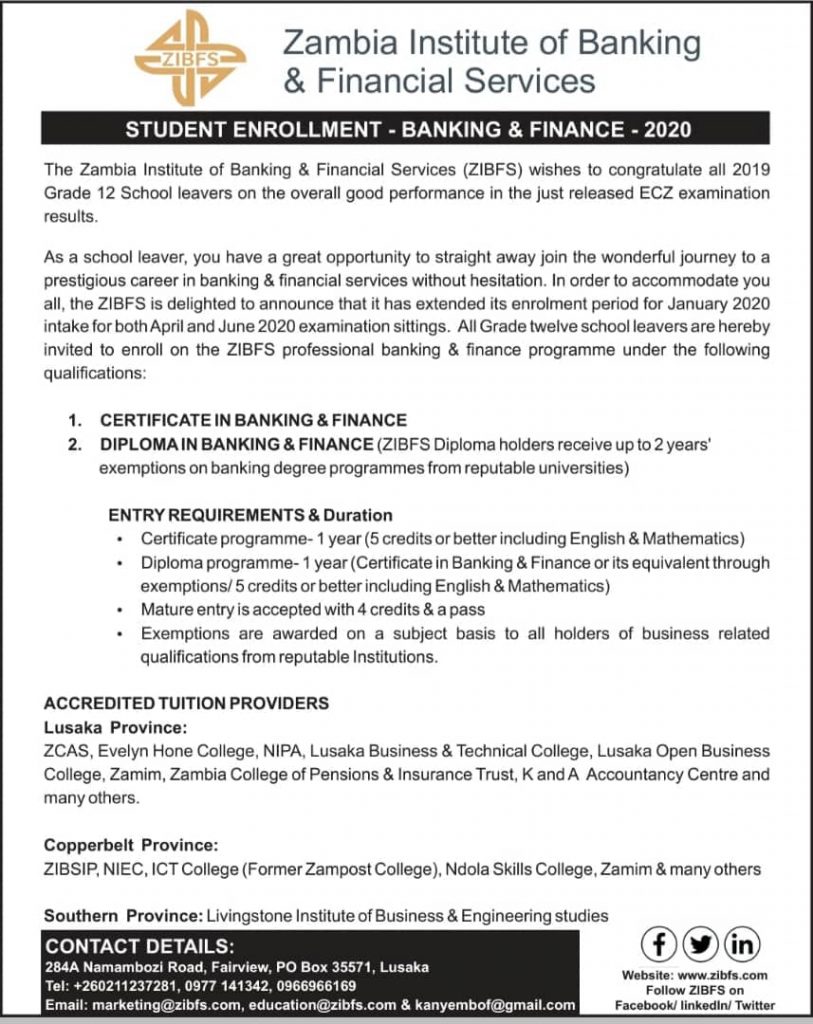 The ZIBFS wishes to Congratulate all Pupils across Zambia that sat and have passed the 2019 Grade 12 School Certificate exams.
The ZIBFS is calling on all Grade 12 School leavers and working professionals to enrol on the professional and academic qualifications in Banking & Finance with the Zambia Institute of Banking & Financial Services (ZIBFS).
Enrolment is still ongoing for April and June 2020 examination sittings for both working professionals and school leavers on full-time, part-time and distance delivery modes from various accredited colleges across the country.
As a professional or one aspiring to be a professional in the financial sector, you need to continuously enhance your skills and knowledge through professional development and training in banking and financial services in order for you to remain competitive and relevant in the ever dynamic financial sector, both at a personal and corporate level….. Join the ZIBFS winning team… and continue to learn…
A. ACADEMIC PROGRAMMES – APRIL & JUNE 2020 EXAMINATION SESSIONS:
(a) Certificate in Banking & Finance: 12 Months
-Minimum Entry Requirements: Five 'O' Level Credits or better including Mathematics and English.
Mature entry route is available. If you are missing one "credit grade", please contact the Institute for a detailed analysis of your Grade 12 statement for possible enrollment. This analysis is done on a case by case basis.
(b) Diploma in Banking & Finance: 12–18 Months
-Entry requirements: Completion of the Banking Certificate or Exemption from Certificate Level
ZIBFS Diploma holders are awarded up to two years' exemptions on university banking degree programs. This provides a faster and effective route to a banking degree. Enrol Now!!
B. PROFESSIONAL PROGRAMMES – JUNE 2020 EXAMINATION SESSION:
Entry Requirements: Grade 12 Certificate; Minimum 1 year relevant working experience
(a) Professional Diploma in Banking & Financial Services: 18 Months
(b) Certified Credit Professional (CCP) Programme: 6 Months
(c) Certificate in Retail Banking: 6 Months
(d) Certificate in Risk Management 6 Months
(e) Executive Diploma in SME Relationship Mgt: 6 Months
All Programmes offered by the Institute are very practical in nature and have proven to be very popular among students and working professionals in the banking & financial services industry. Graduates in Institute programmes have given very positive feedback on the quality of Institute Examinations and that they have learnt a lot during their course of study. Examinations at the Institute are held twice a year for each programme.
Don't be left behind, visit our offices or our official website www.zibfs.com to enrol on any of our available programmes.
CONTACT DETAILS
Zambia Institute of Banking & Financial Services
P.O. Box 35571, Lusaka.
248A Namambozi Road, Fairview
Lusaka
Telephone: 211 237281
Mobile: +260977141342
Fax: 211 237282.
EMAIL: marketing@zibfs.com, education@zibfs.com, reception@zibfs.com