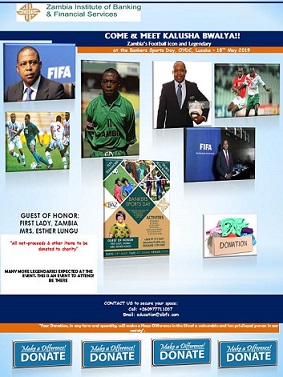 MEET KALUSHA BWALYA (Great Kalu!), the Football icon & Legendary…… At the Bankers Sports Day on 18th May 2019, at the OYDC, Lusaka, Zambi.  Don't be left out! Find your way there and keep fit with legendaries! Everyone is welcome!
The Guest of Honour is the First Lady of the Republic of Zambia, Mrs Esther Lungu.
Many more legendaries expected to be there. You cant afford to miss this event. Book your space now.
Call: +260977711037
Email: education@zibfs.com