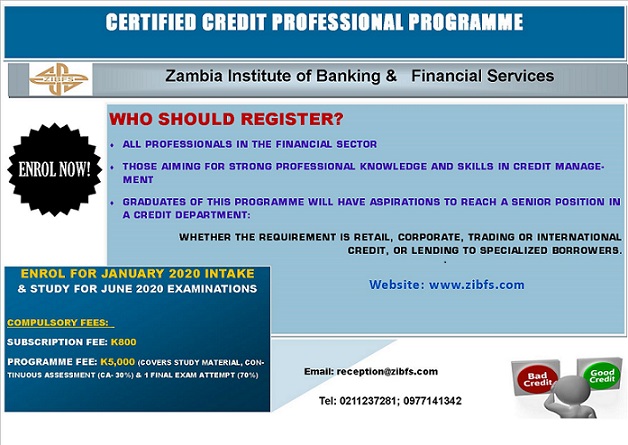 Get Certified as a "CERTIFIED CREDIT PROFESSIONAL (CCP)"-Register now & Get ahead!
Enrol on the 6 Months Intensive Self-Study Certified Credit Professional (CCP) programme and get certified. The CCP programme is a solid specialised professional qualification in Credit Appraisal and Credit Management. Graduates of this programme will aspire for senior positions in a credit department, whether the requirement is retail, corporate, trading or international credit, or lending to specialized borrowers.CLICK HERE TO GET MORE INFORMATION FROM THE VIDEO
This programme is beneficial for Heads of Credit, Loan Officers, Relationship Managers, Branch Managers, etc or anyone who wants to pursue a career in credit. Enrolment is in progress for January 2020 intake, with examinations to be held in June 2020. Enrol now on the 6 months' self-study Certified Credit Professional (CCP) Programme and obtain the professional status of a 'Certified Credit Professional'. Get ahead of others and enhance your knowledge and skills in Credit Appraisal techniques and Credit Management.
Practice has shown that Credit Management is one of the most important activities in any company and cannot be overlooked by any economic enterprise engaged in credit irrespective of its business nature. Sound credit management is a prerequisite for a financial institution's stability and continuing profitability while deteriorating credit quality is the most frequent cause of poor financial performance and condition.
Some studies have shown that there was a strong relationship between the financial performance of financial institutions (Banks and MFIs) and client (Borrower) appraisal, credit risk control and collection policy. The studies also established that client appraisal, credit risk control and collection policy significantly influence the financial performance of financial institutions. It, therefore, goes without saying that a sound Credit Management system in a financial institution can only be achieved by, among other things, having well and rightly qualified staff in credit management to effectively and efficiently handle the credit function of an institution (Gatuhu, 2013).
The Zambia Institute of Banking & Financial Services is here to partner with you and help you achieve that important balance between a sound credit management system and rightly qualified personnel.
Download the detailed brochure HERE or request for it through email to marketing@zibfs.com or education@zibfs.com or reception@zibfs.com.
ENROL NOW AND BE AMONG THE PIONEERS OF SOUND CREDIT MANAGEMENT!
For more information on other exciting banking and financial services courses, download detailed brochures under the downloads section of the ZIBFS website, www.zibfs.com.
CONTACT:
Email: marketing@zibfs.com; education@zibfs.com
Tel: 0211 237281
Fax: 0211 237282
Mobile: 0977141342
Website: www.zibfs.com