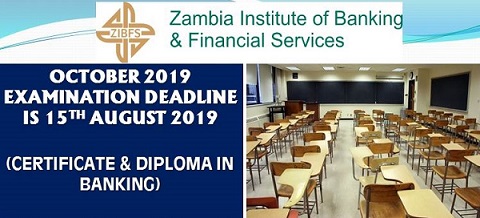 NOTICE TO ALL DECEMBER 2019 EXAMINATION CANDIDATES
The late registration for the December 2019 Examinations is currently in progress and will run from 16th to 31st October 2019, and attracts a penalty fee of K100 per paper, in addition to the other compulsory fees such as programme fee and 2019 membership subscription fee. This deadline applies to both payment and submission of examination forms/ proof of payment.
There will be no extension to this late registration. The initial normal registration closed on 15th October 2019.
For an exciting and progressive career in banking & financial services, enrol with the Zambia Institute of Banking & Financial Services and register for your examinations now if you have not yet done so, to avoid being omitted from the examination register.
For CCP exam candidates, please be reminded that the deadline for submission of practical assignments (30% CA) is 30th October 2019 as per earlier instructions.
For additional information or assistance, please send an inquiry through email to education@zibfs.com, accounts@zibfs.com and reception@zibfs.com, or call +260 211237281.
Please forward this update to whoever it may concern.