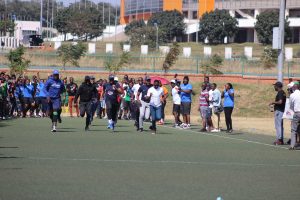 The Zambia Institute of Banking & Financial Services (ZIBFS) in partnership with the Bankers Association of Zambia (BAZ) will host the 2023 Bankers' Sports Day on 20th May 2023 at the Youth Olympic Development Centre (OYDC). SAVE THE DATE and Download the Concept Note Here.
THEME:
"Banking on Health; Not Just Wealth"
.
GUEST OF HONOUR: MINISTER OF YOUTH & SPORT, HON. ELVIS NKANDU, MP
DATE: SATURDAY, 20TH MAY 2023
VENUE: OLYMPIC YOUTH DEVELOPMENT CENTRE (OYDC), Great North Road, Lusaka
TIME: 07:00HRS – 18:00HRS
PARTICIPATION FEE: Minimal participation fee for individual and team participation. (Contact the Institute for participation fee and registration formalities. The deadline for registration is 28th April 2023)
RATIONALE FOR THE SPORTS DAY:
The Bankers Sports Day is an annual networking and unwinding event where all members of the financial sector come together with one message of promoting health among professionals working in the financial sector. Feedback given by those who attended the 2022 Bankers' Sports day was very positive as it provided participants with a platform to exercise, network and unwind from work-related stress. This is an important event for the financial sector, and it attracts all players from the financial sector and beyond.
Among notable partnering institutions last year was the Zambia Medical Association which provided basic medical services including Covid 19 tests and vaccines on site.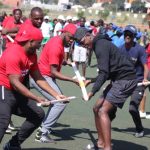 The Guest of Honour led the senior executives of financial institutions in the unconventional games, and the day was filled with other competitive games among participants, such as Football, Netball, Volleyball, and Track events. Various institutions and individuals emerged as winners and were awarded accordingly.
The 2023 Bankers Sports Day will bring together different institutions in the financial sector, which will be required to form teams that will compete in various sporting activities, with the best team emerging as the winner. The sporting activities will be conducted under the supervision of professional trainers.
FREE EXHIBITION
All leaders of the banking & financial services sector have also been invited to attend this important event.  This event will be open to the public and all participating institutions and sponsors are invited to a FREE EXHIBITION of their products and/or services during the event.
"Let us work together in bringing the financial sector together through sport and continue to promote an active and healthy lifestyle among financial sector professionals as a basis for their effectiveness. Remember to bank on health; not just wealth"
CONTACT:
Zambia Institute of Banking & Financial Services.
P.O.Box 35571, Lusaka.
248A Namambozi Road, Fairview Lusaka.
Tel: 211237281,0977711037, 0977141342.